Wabash - CarbonSAFE
Objective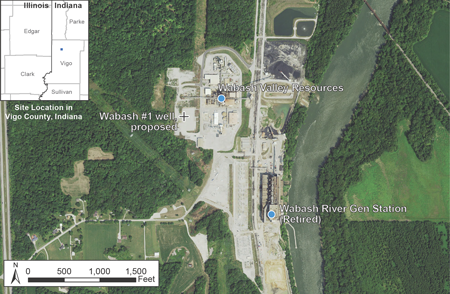 Geologic storage of carbon dioxide (CO2) can play a significant role in keeping greenhouse gases out of the earth's atmosphere, thereby slowing global warming trends. The Wabash CarbonSAFE project seeks to establish the feasibility of commercial-scale geological storage at Wabash Valley Resources' Integrated Gasification Combined Cycle (IGCC) plant in Vigo County, Indiana. The facility will produce up to 1.57 MT per year of pure CO2 associated with ammonia production at the repurposed IGCC plant. The project will determine the expected performance of the deep reservoir and sealing units at the site for long-term security, CO2 storage capacity, and ability to receive CO2 at the required rate. These evaluations will be accomplished in part through computer modeling of CO2 in the subsurface reservoir.
Project Overview
The ISGS and our research colleagues, including the Indiana Geological & Water Survey, will study the deeply-buried Mt. Simon Sandstone of the Illinois Basin at the Wabash site. To accomplish this we will drill a stratigraphic test well to a depth of approximately 8,200 feet, analyze core and water samples, perform well tests, and conduct a 2D seismic survey over the study area. The resulting datasets will be analyzed to determine the reservoir storage and seal parameters for evaluating the suitability of the Wabash site.
A stratigraphic well will provide new knowledge on the distribution of the deep Mt. Simon Sandstone in this area of the Illinois Basin and better define its geological characteristics and storage reservoir quality. 2D seismic information will help delineate reservoir and seal continuity in the local area. Well and seismic data will be incorporated into static, dynamic, and geomechanical computer models of the storage reservoir and sealing units, which will be used to simulate long-term CO2 injection to assess the storage capacity, reduce risk, and confirm the permanence of storage at the site.
The Wabash CarbonSAFE team will develop a detailed characterization plan with requirements to reduce subsurface uncertainty and for continued work toward commercialization of CO2 storage at the Wabash site. The permitting requirements, legal and contractual issues, and assessment of social attitudes toward the project will be documented. In addition, the project will evaluate options for use of the separated CO2 in oil fields for CO2 enhanced oil recovery (CO2 EOR).